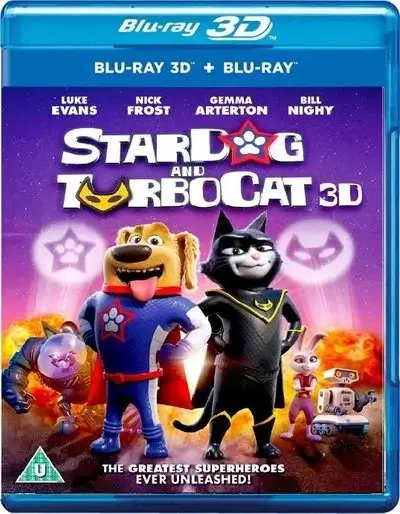 StarDog and TurboCat 3D Blu Ray 2019
Producer: Ben Smith
Duration: 1h 30 min.
Cast: Luke Evans, Nick Frost, Gemma Arterton, Bill Nighy, Charli D'Amelio, Morgan Cambs, Doc Brown, Ben Smith, Robert G. Slade, Dan Russell, Rachael Louise Miller, Cory English
IMDB: 5.2
DOWNLOAD
1 368
0
Story 3D Movie
In the cartoon StarDog and TurboCat 3d blu ray launched into space by its owner, a scientist, in 1969, the faithful dog Buddy crashes in our day in a small town where the pets are raided by the animal-hating police Peck.
Desperate to be reunited with his owner, Buddy hires the genius millionaire cat Felix to help him and it turns into a crazy adventure.
They encounter Cassidy the rabbit and his animal rights organization G. U. A. R. D., and Buddy and Felix are forced to confront Peck and become real heroes in the process!.

Review 3D Movie
This cartoon StarDog and TurboCat 3d blu ray is full of cliches and recycled ideas. The animation is decent, but plot and music lack inspiration or meaning. About 2 minutes in, I could not figure out how it got a rating that high. My 5 year old liked it, but I repeatedly resisted the urge to turn it off. The funnest thing about this show was commenting with my teenagers on the painfully lackluster storyline, the voluminous cliches and borrowed tropes, and the inconsistent and random background music. I think a fairer rating would actually be 2 to 3 out of 10 stars, because I've seen worse, but I gave it one star to bring the artificial high lower.
Dear site users, to download a 3D movie you can use one of the file storage sites TakeFile or MoonDL. It's up to you which method to choose. Learn more about Premium. Learn more about how to download from TakeFile. Learn more about how to download from MoonDL.
Also, if you have problems with payment on one site, you can try another


ATTENTION! If your account is only showing a small amount of traffic allocation, write a message to the support team of either TakeFile or MoonDL, informing them of your 3D-HD.CLUB user Premium status and they will increase your traffic allocation up to 512 GB every 48 hours.

Link Dead? Please let us know and we will fix it!
Subscribe to our
Telegram channel
and don't miss the release of your favorite 3d movie!
Trailer StarDog and TurboCat 3D Blu Ray 2019
Add comment