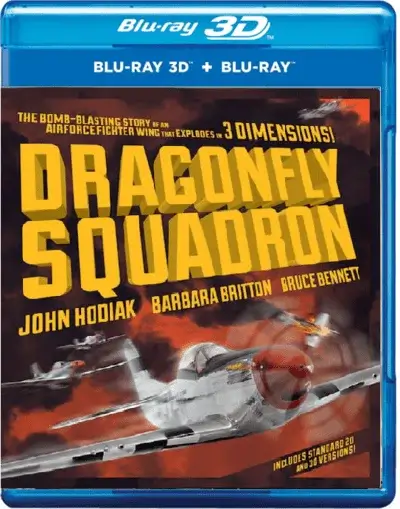 Dragonfly Squadron 3D Blu Ray 1954
Producer: Lesley Selander
Duration: 1h 22 min.
Cast: John Hodiak, Barbara Britton, Bruce Bennett, Jess Barker, Gerald Mohr, Chuck Connors, Harry Lauter, Pamela Duncan, Adam Williams, John Lupton, Benson Fong, Dick Simmons, John Hedloe
IMDB: 5.4
DOWNLOAD
1 138
0
Story 3D Movie
In the movie Dragonfly Squadron 3d blu ray in May 1950, Major Matthew "Matt" Brady, disqualified from flying for two years, is assigned to serve in Busan, South Korea, where he will have to train several South Korean pilots to provide air cover in case of an urgent evacuation of American citizens in the event of an attack by North Korea.

Review 3D Movie
Although it is always good news the edition of classic 3D movies this one happens to be so bore that not even the 3D raises it up. All roles are quite flat and unidimensional. The love story is uninteresting and unnecessary. The film plot should be about new pilots' training and frankly this is hardly seen, although may have been the main focus of interest. Fess Parker and Chuck Connors (among the best of the film) do appear in small roles. So in the end the best thing about this movie is 3D: although there are not special effects -not even great aircraft fights- the restoration makes it bright and gives us an ultimate approximation to those years' stereoscopic experience.
Dear site users, to download a 3D movie you can use one of the file storage sites TakeFile or MoonDL. It's up to you which method to choose. Learn more about Premium. Learn more about how to download from TakeFile. Learn more about how to download from MoonDL.
Also, if you have problems with payment on one site, you can try another


ATTENTION! If your account is only showing a small amount of traffic allocation, write a message to the support team of either TakeFile or MoonDL, informing them of your 3D-HD.CLUB user Premium status and they will increase your traffic allocation up to 512 GB every 48 hours.

Link Dead or Problem File? Please let us know and we will fix it!
Subscribe to our
Telegram channel
and don't miss the release of your favorite 3d movie!
Trailer Dragonfly Squadron 3D Blu Ray 1954
Add comment