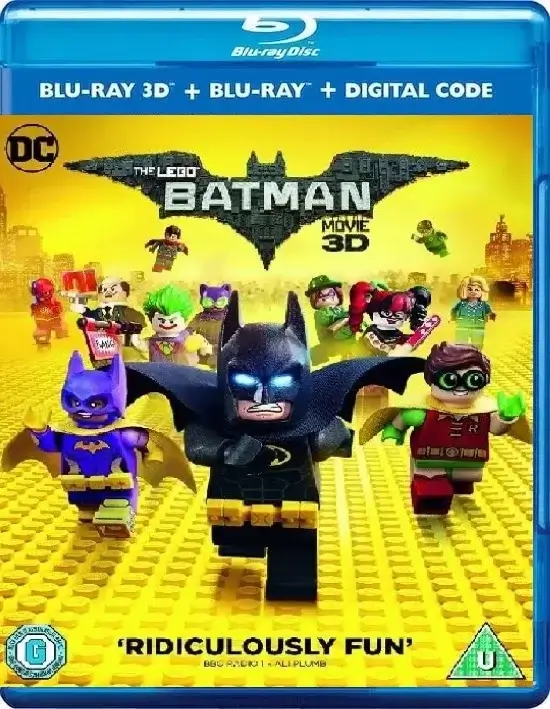 The LEGO Batman Movie 3D Blu Ray 2017
Producer: Chris McKay
Duration: 1h 44 min.
Cast: Will Arnett, Michael Cera, Rosario Dawson, Ralph Fiennes, Susan Bennett, Zach Galifianakis, Jenny Slate, Jason Mantzoukas, Conan O'Brien, Doug Benson, Billy Dee Williams, Zo Kravitz, Kate Micucci, Riki Lindhome, Eddie Izzard
IMDB: 7.3
DOWNLOAD
3 525
0
Story 3D Movie
Download 3d movie The LEGO Batman Movie. This is the first directorial work of Chris McKay in the field of full-length films. The film The LEGO Batman Movie 3D is the spin-off for the film The Lego Movie 3D. Movie was originally calculated both on the nursery and on the adult audience, and most likely will appeal to both. For the voicing of roles invited world stars: Mariah Carey, Zach Halifanakis and others.
Gotham City is in trouble again! The eccentric Joker, the sworn enemy of Batman, made a daring escape from the Arkhem psychiatric hospital. Batman is no longer eager to engage in battle with the villain in order to seize him again and isolate him from society, until he has arranged another catastrophe. But then his adoptee, Dick Grayson, nicknamed 'Robin', falls on Bruce Wayne's head. Dick really wants to become a partner to Batman himself, so he actively tries to join the work and studies all the hero gadgets. To defeat the Joker, this couple still needs to learn how to work in a team. They may even be able to have some fun!
Review 3D Movie
Superhero Batman enjoys his role as the savior of Gotham, but he is happy only when he fights with villains. Adoration of fans can not brighten up his home loneliness. However, Batman insists that he does not need anyone, and that he is doing very well alone. Only when the Joker penetrates the Ghost Zone and transports all the worst villains in the Warner Studio history to Earth, from Sauron to Volan de Mort, does Batman have to admit that even the coolest superhero needs the help and support of butler Alfred, Robin's adopted son and new police commissioner barbara gordon.
8 out of 10
Dear site users, to download a 3D movie you can use one of the file storage sites TakeFile or MoonDL. It's up to you which method to choose. Learn more about how to download from TakeFile. Learn more about how to download from MoonDL.
Also, if you have problems with payment on one site, you can try another


Have you bought a Premium and there is not enough traffic to download? Contact the TakeFile support team (This is not our support, but the service where you bought it), they will increase your traffic up to 512 gb every 48 hours.

Link Dead? Please let us know and we will fix it!
Subscribe to our
telegram channel
and don't miss the release of your favorite 3d movie!
Trailer The LEGO Batman Movie 3D Blu Ray 2017
Add comment