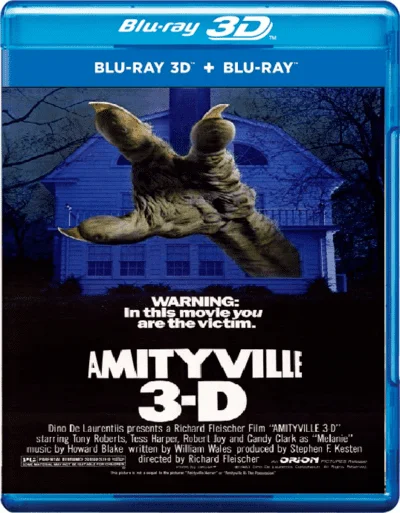 Story 3D Movie
In the movie Amityville 3d blu ray, having exposed the "spiritual scammers" who hunted in the world-famous Amityville "haunted house", Reveal magazine reporter John Baxter decides to buy himself a well-known property, especially since they ask mere pennies for the damned house. Being not a superstitious person, John moves to his new home without fear, but soon with him, strange things begin to happen to his colleagues and relatives who have visited the mansion. Deciding to give everything a logical explanation, John invites a group of specialists in the study of paranormal phenomena, the appearance of which causes a destructive force unprecedented in its scale...

Review 3D Movie
There must have been a law in the 1980's that stated that if you are to make a third film to a set of horror movies you must make them in 3-d as this was one of them, along with other such fine films as Jaws 3-D and Friday the 13th part III in 3-D. Sad to say, but I enjoyed all these movies even though I know in my heart of heart they were all bad movies. However, just because a movie is bad does not make it non-entertaining. Well at least to me it does not...perhaps to a more mainstream viewer, I admit I am a little more offbeat than most people to say the least. This story has a guy moving into the Amityville house for whatever reasons after he proves this one little group of people are fake psychics. Through a series of events though he begins to find out just how real the horrors are in the house that has had cast evil upon all those who lived there. I have to say the movie is not as graphic as the second movie, but it has a lot more to it than the first movie in the ways of scares and such and it has a nice conclusion too. Still the movie has to many 3-D moments too to be a really good movie. You know the scenes, pointless scenes where they aim something directly at the camera and such. Still, the movie runs at a fast clip and is entertaining to watch, plus you get to see a young Meg Ryan in one of her first roles.
Dear site users, to download a 3D movie you can use one of the file storage sites TakeFile or MoonDL. It's up to you which method to choose. Learn more about Premium. Learn more about how to download from TakeFile. Learn more about how to download from MoonDL.
Also, if you have problems with payment on one site, you can try another


ATTENTION! If your account is only showing a small amount of traffic allocation, write a message to the support team of either TakeFile or MoonDL, informing them of your 3D-HD.CLUB user Premium status and they will increase your traffic allocation up to 512 GB every 48 hours.

Link Dead or Problem File? Please let us know and we will fix it!
Subscribe to our
Telegram channel
and don't miss the release of your favorite 3d movie!
Trailer Amityville 3 3D Blu Ray 1983
Add comment