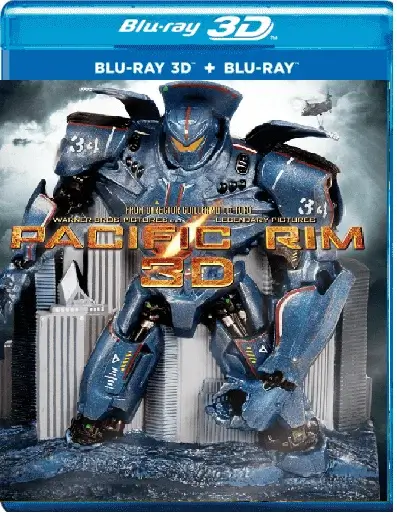 Pacific Rim 3D Blu Ray 2013
Producer: Guillermo del Toro
Duration: 2h 11 min.
Cast: Charlie Hunnam, Diego Klattenhoff, Idris Elba, Rinko Kikuchi, Charlie Day, Burn Gorman, Max Martini, Robert Kazinsky, Clifton Collins Jr., Ron Perlman, Brad William Henke, Larry Joe Campbell, Mana Ashida, Santiago Segura
IMDB: 6.9
DOWNLOAD
3 887
1
Story 3D Movie
In the movie Pacific Rim 3d blu ray, when the legions of monsters known as Kaizu rose from the depths of the sea, a war began that was destined to take millions of lives and reduce "human resources" to almost zero in just a few years. To fight the aliens, a special weapon was created: huge robots, called Jaegers, they were controlled simultaneously by two pilots, whose minds are connected using neural communication. But even the Jaegers are almost powerless in the face of the ruthless Kaizu. On the verge of defeat, the defenders of humanity have no choice but to turn to two highly dubious heroes – an unwanted former pilot and an inexperienced trainee – who have teamed up to lead the once-legendary but now obsolete Jaeger into battle. Together, they prove to be humanity's only hope, the last obstacle before the impending apocalypse.

Review 3D Movie
The plot is simple. Kaiju (monsters) from another dimension break through to ours and wage war on the planet and us humans must do what we can to stop them. So we build giant machines called Jaegers. General audiences are doing the worst thing by comparing this to Transformers or Battleship simply because of some simple image traits. Well I'm here to tell you that you're way off and also working comparisons in the wrong league. Del Toro has crafted an insane amalgamation of Sci-Fi, old-school thrills, special effects and brilliantly entertaining set pieces that all meld together in beautiful harmony, with just enough satisfying human moments and arcs that carry a nice balance of emotion and camp. It all blends well with the loopiness of it all. Its Guillermo Del Toro's trademarks turned up to 11, all while going nuts and having fun with his toys.
Pacific Rim is triumphant above the rest of the blockbuster herd. It knows what is missing from the norm and just goes crazy with it. Its a big, giant load of awesome fun. Prepare your jaw muscles, because you'll be smiling throughout.
Dear site users, to download a 3D movie you can use one of the file storage sites TakeFile or MoonDL. It's up to you which method to choose. Learn more about Premium. Learn more about how to download from TakeFile. Learn more about how to download from MoonDL.
Also, if you have problems with payment on one site, you can try another


ATTENTION! If your account is only showing a small amount of traffic allocation, write a message to the support team of either TakeFile or MoonDL, informing them of your 3D-HD.CLUB user Premium status and they will increase your traffic allocation up to 512 GB every 48 hours.

Link Dead or Problem File? Please let us know and we will fix it!
Subscribe to our
Telegram channel
and don't miss the release of your favorite 3d movie!
Trailer Pacific Rim 3D Blu Ray 2013
Add comment