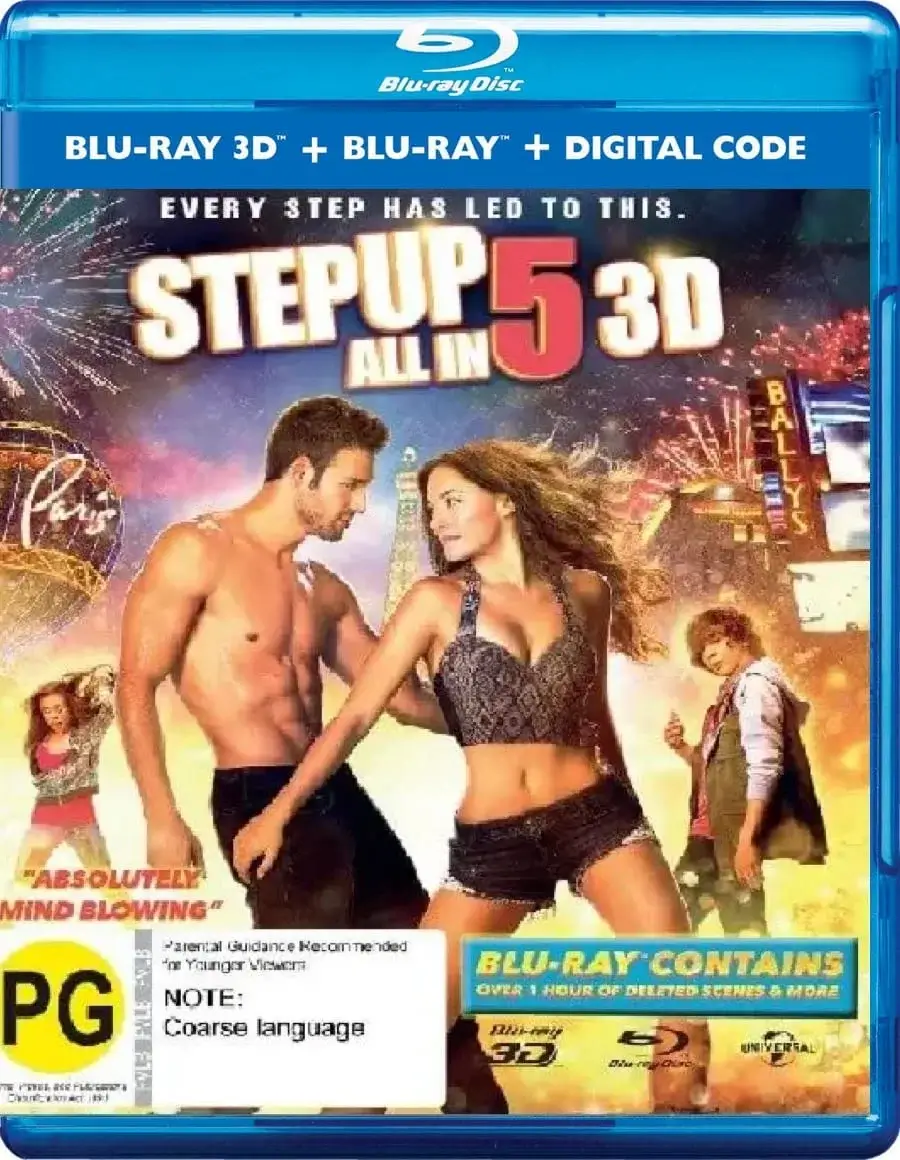 Step Up All In 3D Blu Ray 2014
Producer: Trish Si
Duration: 1h 47 min.
Cast: Ryan Guzman, Brian Evigan, Misha Gabriel Hamilton, Isabella Miko, Alison Stoneer, Adam Sevani, Stephen Boss, Stephen Stevo Jones, David Shreibman, Marie Coda
IMDB: 6
DOWNLOAD
1 698
1
Story 3D Movie
Continuation of part 4, Step Up All In 3D in the sparkling lights of Las Vegas, the best dancers of the planet will come together in a battle that will decide everything. The talented self-taught Sean and the beauty Andy, dreaming of fame and fortune, will take part in a popular reality show and challenge the "invincible" teams of opponents, and most importantly, themselves. Will they be able to overcome fear, survive betrayal and curb passion to become the first and fulfill their dreams?
Review 3D Movie
With great difficulty, the victories in the previous film turned into a disappointment for Sean and his dance team called "The Gang" a year later. Having moved from Miami to California, the friends lost their energy, now, with their dance numbers, they can not even break into seedy commercials. The ambitious Sean is not ready to give up, he is forming a new team, through his old friend Elk he meets the energetic dancer Andy and applies for participation in a big dance battle, which will be broadcast live on the prestigious TV channel. A three-year contract is at stake, but Sean & Co's opponents are the best dance group on the West Coast, and his former team, The Gang, is also looking to win, with or without Sean.
Dear site users, to download a 3D movie you can use one of the file storage sites TakeFile or MoonDL. It's up to you which method to choose. Learn more about how to download from TakeFile. Learn more about how to download from MoonDL.
Also, if you have problems with payment on one site, you can try another


Have you bought a Premium and there is not enough traffic to download? Contact the TakeFile support team (This is not our support, but the service where you bought it), they will increase your traffic up to 512 gb every 48 hours.

Link Dead? Please let us know and we will fix it!
Subscribe to our
telegram channel
and don't miss the release of your favorite 3d movie!
Trailer Step Up All In 3D Blu Ray 2014
Add comment