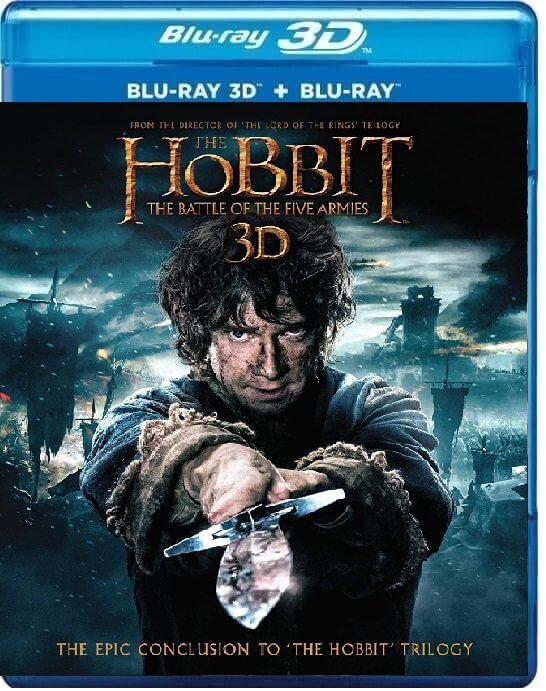 The Hobbit: The Battle of the Five Armies 3D Blu Ray 2014
Country: New Zealand, USA
Producer: Peter Jackson
Duration: 2h 24 min.
Cast: Martin Freeman, Ian McCallen, Richard Armitage, Luke Evans, Evangeline Lilly, Lee Pace, Orlando Bloom, Benedict Cumberbatch, Ken Stott, Aidan Turner
IMDB: 7.4
DOWNLOAD
1 426
0
Story 3D Movie
The Hobbit: Battle of the Five Armies 3D is an epic final chapter about the adventures of Bilbo Baggins, Thorin Oakenshield, and a band of dwarfs. Having tried to recapture the homeland of the dwarfs from the
dragon Smaug
, they unwittingly awakened a deadly force. And now Smaug is about to unleash his fiery anger on the defenseless inhabitants of the Lake City.
To recover the treasure, the possessed Thorin sacrifices friendship and honor, and Bilbo's desperate attempts to restore his mind force the hobbit to make a risky choice. But the main danger lies ahead. Unknown to anyone but the wizard Gandalf, the most dangerous enemy of all Middle-earth, Sauron, sent hordes of orcs to battle at the Lonely Mountain.
Review 3D Movie
When the dragon Smaug attacks the Lake City, he burns it to the ground, but he himself is killed by the arrow of the archer Bard (Luke Evans). The surviving townspeople head to the Lonely Mountain to receive their promised share of the dwarf and dragon treasures. The army of elves under the command of King Thranduil (Lee Pace), who also claims the wealth of the Mountain, is not long in coming. To protect their wealth, Thorin's squad (Richard Armitage) heaps stones at the central entrance and sends a request for help to the nearest dwarf kingdom. Meanwhile, the hobbit Bilbo (Martin Freeman) tries to reconcile the dwarves, elves and people before the attack of the army of orcs and goblins, and the members of the White Council come to the fortress of Dol Guldur to save the wizard Gandalf (Ian McKellen) from Sauron who has returned from oblivion.

You bought a premium. Contact the TakeFile support team, they will increase your traffic up to 512 gb every 48 hours.

Link Dead? Please let us know and we will fix it!
Subscribe to our
telegram channel
and don't miss the release of your favorite 3d movie!
Trailer The Hobbit: The Battle of the Five Armies 3D Blu Ray 2014
Add comment