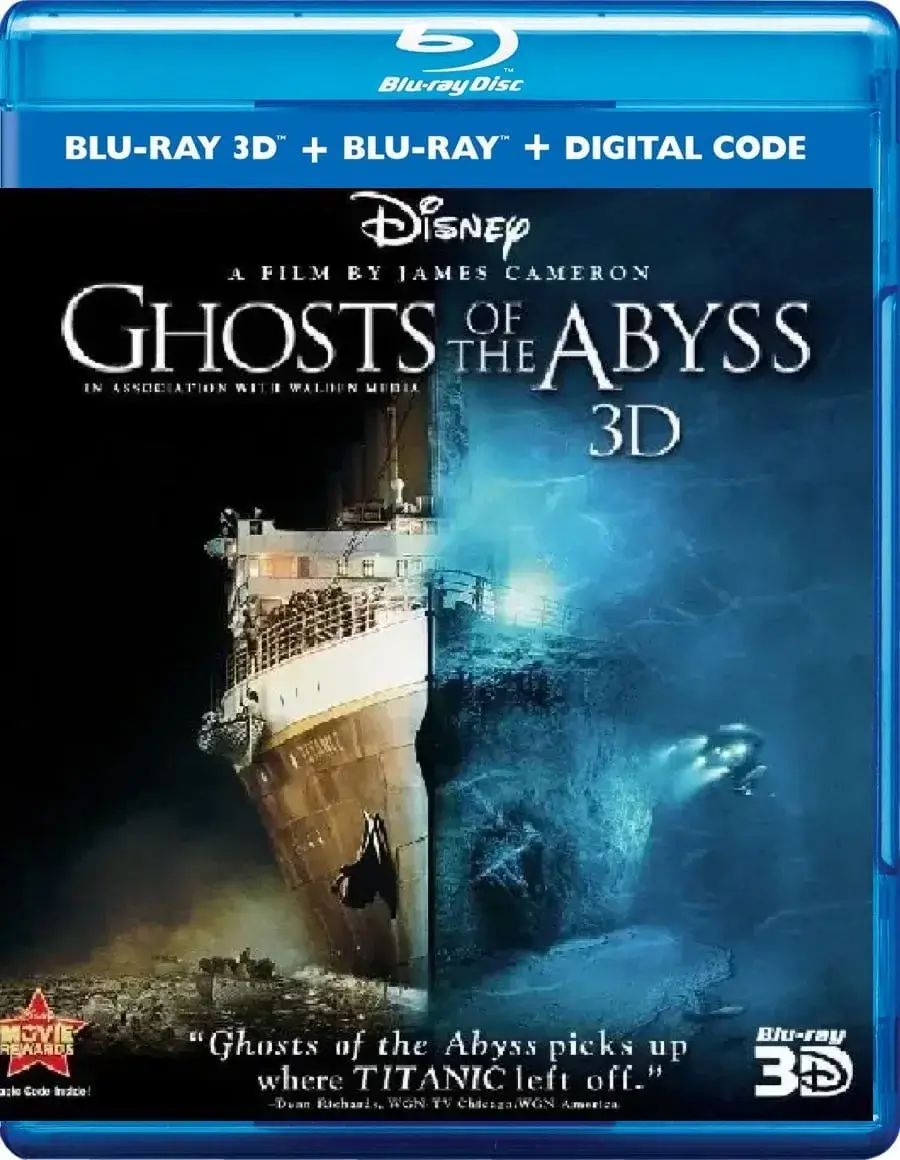 Ghosts of the Abyss 3D Blu Ray 2003
Producer: James Cameron
Duration: 60 min.
Cast: Bill Paxton, Dr. John Broadwater, Dr. Laurie Johnston, Charles Pellegrino, Don Lynch, Ken Marshall, James Cameron, Mike Cameron, Jeffrey N. Ledda, Corey Jaskolsky
IMDB: 6.8
DOWNLOAD
6 174
0
Story 3D Movie
The documentary Ghosts of the Abyss 3D, directed by James Cameron a few years after the resounding success of his Oscar-winning drama Titanic. The director goes to the place where the remains of the sunken ship rest, in the company of a group of historians and oceanologists.

Review 3D Movie
James Cameron shares with viewers the true story of the 3D Titanic crash, which inspired him to create his famous film. Aboard a Russian research vessel, Academician Mstislav Keldysh Cameron returns to the crash site of a passenger liner in the company of scientists and actor Bill Paxton in 1912. Thanks to unique technologies specially developed for this expedition, the team has the opportunity to explore the ruins of the legendary ship like never before. The director talks about how the many years of preparation for the rarest underwater filming were carried out, and the viewers are given a unique opportunity to see previously non-existent footage from the scene of the tragedy.
Dear site users, to download a 3D movie you can use one of the file storage sites TakeFile or MoonDL. It's up to you which method to choose. Learn more about Premium. Learn more about how to download from TakeFile. Learn more about how to download from MoonDL.
Also, if you have problems with payment on one site, you can try another


ATTENTION! If your account is only showing a small amount of traffic allocation, write a message to the support team of either TakeFile or MoonDL, informing them of your 3D-HD.CLUB user Premium status and they will increase your traffic allocation up to 512 GB every 48 hours.

Link Dead? Please let us know and we will fix it!
Subscribe to our
Telegram channel
and don't miss the release of your favorite 3d movie!
Trailer Ghosts of the Abyss 3D Blu Ray 2003
Add comment