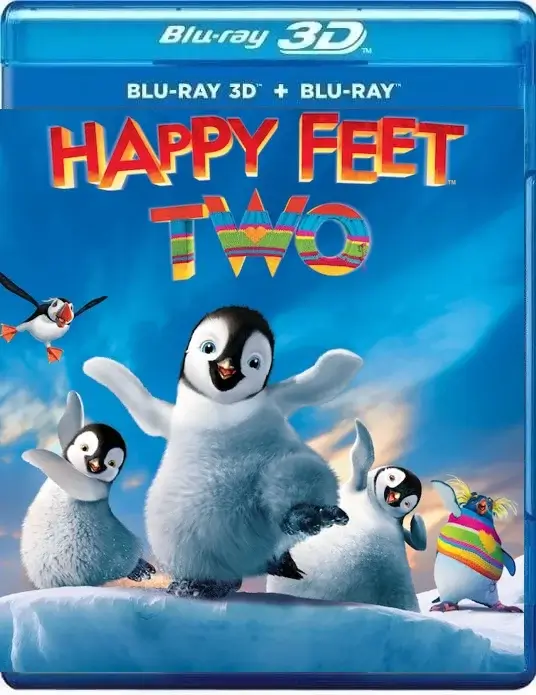 Happy Feet Two 3D Blu Ray 2011
Producer: George Miller, Gary Eck
Duration: 1h 57 min.
Cast: Elijah Wood, Robin Williams, Pink, Carlos Alazraqui, Lombardo Boyar, Jeffrey Garcia, Johnny A. Sanchez, Sofía Vergara
IMDB: 5.8
DOWNLOAD
259
0
Story 3D Movie
The indefatigable penguin Mumble, who once conquered an entire tribe of emperor penguins with his brilliant dancing talent, became a father. His baby, Eric, is exactly the same freedom–loving and independent as dad, but in his ambitions and adventures, despite his young age, he is already able to give a good head start to his father and everyone around him.
The Mighty Sven, a penguin who can fly, becomes the idol of the baby. Following and imitating him in everything, Eric is not going to learn to dance in any way, contrary to Mumble's plans and beliefs. However, the real difficulties and problems lie elsewhere, and in order to overcome them not without success, Mumble and Eric will have to forget about prejudices and disagreements, standing up for the protection of common interests and ideals.  Download and watch Happy Feet Two 3d. 
Dear site users, to download a 3D movie you can use one of the file storage sites TakeFile or MoonDL. It's up to you which method to choose. Learn more about how to download from TakeFile. Learn more about how to download from MoonDL.
Also, if you have problems with payment on one site, you can try another


Have you bought a Premium and there is not enough traffic to download? Contact the TakeFile support team (This is not our support, but the service where you bought it), they will increase your traffic up to 512 gb every 48 hours.

Link Dead? Please let us know and we will fix it!
Subscribe to our
telegram channel
and don't miss the release of your favorite 3d movie!
Trailer Happy Feet Two 3D Blu Ray 2011
Add comment