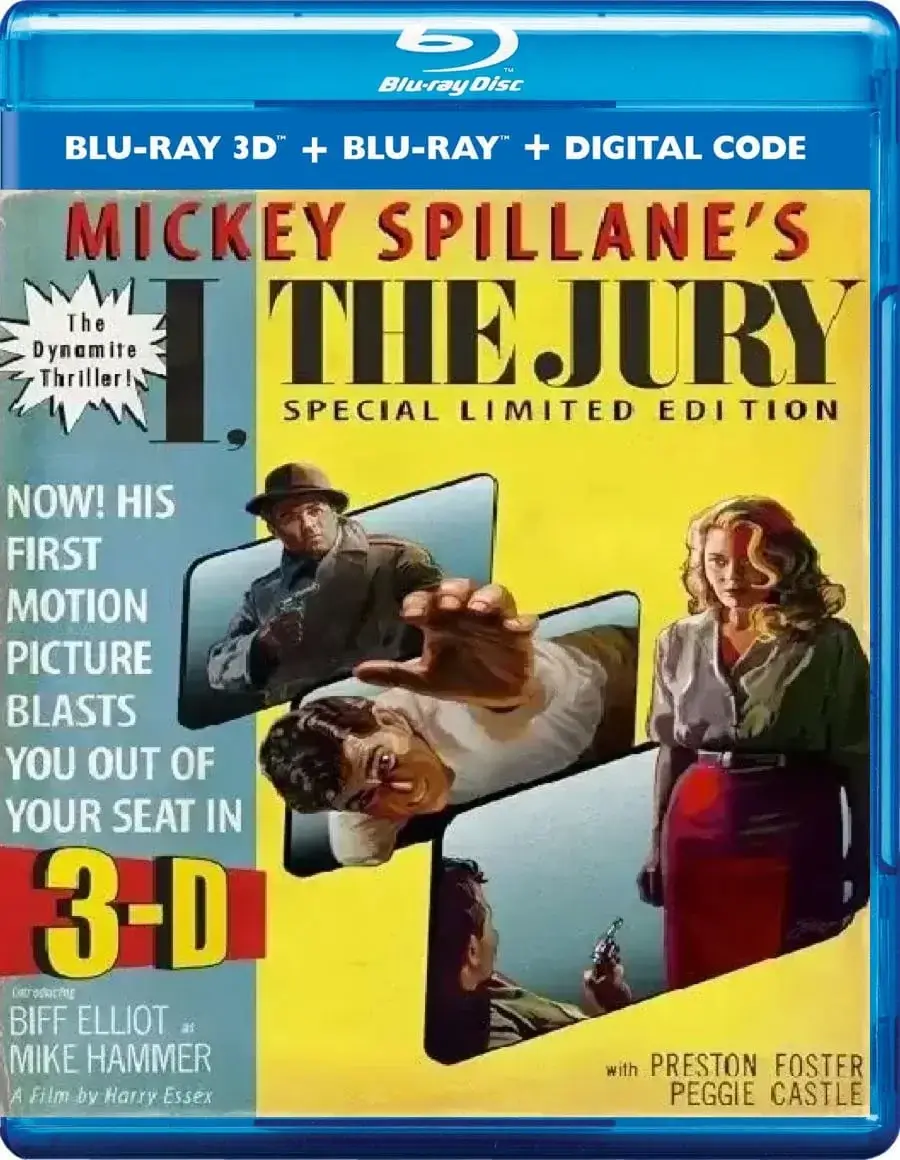 I The Jury 3D Blu Ray 1953
Producer: Harry Essex
Duration: 1h 27 min.
Cast: Biff Elliot, Preston Foster, Peggie Castle, Margaret Sheridan, Alan Reed, Mary Anderson, Tom Powers, Frances Osborne, Tani Guthrie, Dran Hamilton, Joe Besser, Paul Dubov.
IMDB: 6.1
DOWNLOAD
664
0
Story 3D Movie
It's almost Christmas, but Mike Hammer is on the path of revenge for the death of his fighting friend Jack. Fired up, Mike sets out to find the killer, working his way through a growing number of suspects (and corpses) in the movie I,The Jure 3d blu ray.
Review 3D Movie
Quite a surprise, this one, based on the Mickey Spillane book, done very much in the film noir style and shot in 3-D! Actually watching this flat it is only the opening with the dying man crawling towards the camera with his hand reaching forward that I was aware of the 3-D origins and we are swiftly on to an absorbing thriller. Not as tough and sexy as the book but a really decent effort with some super shadowy location filming. Biff Elliot, of whom I had never heard, is fine in the lead, if not sensational but the crackling dialogue and constant action keep things moving along nicely while Peggie Castle is great as the femme fatale. Low budget and maybe nothing too special but tight and bold. Very likable.
Dear site users, to download a 3D movie you can use one of the file storage sites TakeFile or MoonDL. It's up to you which method to choose. Learn more about how to download from TakeFile. Learn more about how to download from MoonDL.
Also, if you have problems with payment on one site, you can try another


Have you bought a Premium and there is not enough traffic to download? Contact the TakeFile support team (This is not our support, but the service where you bought it), they will increase your traffic up to 512 gb every 48 hours.

Link Dead? Please let us know and we will fix it!
Subscribe to our
telegram channel
and don't miss the release of your favorite 3d movie!
Trailer I The Jury 3D Blu Ray 1953
Add comment