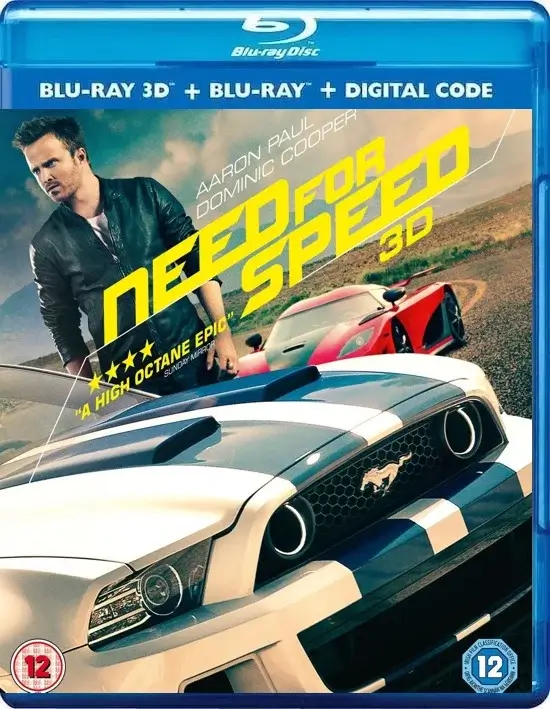 Need for Speed 3D Blu Ray 2014
Producer: Scott Waugh
Duration: 2h 12 min.
Cast: Aaron Paul, Dominic Cooper, Imogen Poots, Kid Cudi, Rami Malek
IMDB: 6.4
DOWNLOAD
1 729
1
Review 3D Movie
I walked in the cinema expecting fast cars, street racing, crazy cop chases, drifting and explosions and that's exactly what I got!  This film is called "Need for Speed" and is based on a video game. This alone tells us not to expect character development, genius plot twists and memorable dialogues. This films delivers exactly what it set out to deliver. 
If you like fast and beautiful cars, this is for you. If you like crazy stunts and cars chases, this is for you. If you enjoyed getting chased by the cops in the video game, this is for you.  Go to the cinema expecting the above and you'll have an excellent time.
Dear site users, to download a 3D movie you can use one of the file storage sites TakeFile or MoonDL. It's up to you which method to choose. Learn more about Premium. Learn more about how to download from TakeFile. Learn more about how to download from MoonDL.
Also, if you have problems with payment on one site, you can try another


ATTENTION! If your account is only showing a small amount of traffic allocation, write a message to the support team of either TakeFile or MoonDL, informing them of your 3D-HD.CLUB user Premium status and they will increase your traffic allocation up to 512 GB every 48 hours.

Link Dead? Please let us know and we will fix it!
Subscribe to our
Telegram channel
and don't miss the release of your favorite 3d movie!
Trailer Need for Speed 3D Blu Ray 2014
Add comment