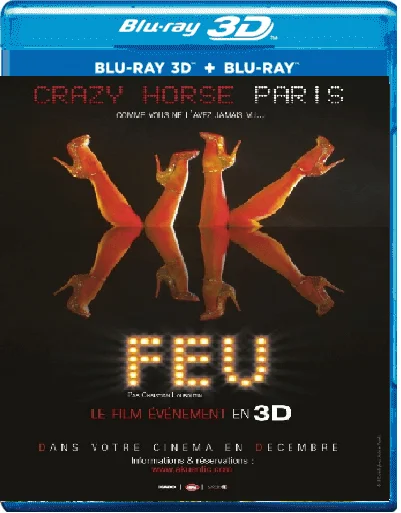 Feu: Crazy Horse Paris 3D Blu Ray 2012
Producer: Bruno Hullin
Duration: 1h 30 min.
Cast: Lumina Classika, Patricia Folly, Nooka Karamel, Baby Light, Christian Louboutin
IMDB: 6.1
DOWNLOAD
1 562
1
Story 3D Movie
"Feu", the show created by Christian Louboutin, first ever Crazy Horse guest creator, was performed for three months in the spring of 2012 on the stage of the legendary Parisian cabaret. In this show, the famed inventor of the celebrated red-soled shoes, elevated the Crazy code of aesthetics to new dizzying heights, through four separate numbers, henceforth part of the Crazy Horse legend. "Feu" was also the opportunity, for the Crazy Horse Paris, to carry out another creative project alongside the stage performance: filming the show in 3D. The Parisian cabaret, at the forefront of cutting-edge technologies and using them to glorify the female form, had entrusted Bruno Hullin with the making of this film.

Review 3D Movie
An amazingly staged performance from the creator of those same Louboutin.
I always liked my legs, but there are a lot of them here.
Dear site users, to download a 3D movie you can use one of the file storage sites TakeFile or MoonDL. It's up to you which method to choose. Learn more about Premium. Learn more about how to download from TakeFile. Learn more about how to download from MoonDL.
Also, if you have problems with payment on one site, you can try another


ATTENTION! If your account is only showing a small amount of traffic allocation, write a message to the support team of either TakeFile or MoonDL, informing them of your 3D-HD.CLUB user Premium status and they will increase your traffic allocation up to 512 GB every 48 hours.

Link Dead? Please let us know and we will fix it!
Subscribe to our
Telegram channel
and don't miss the release of your favorite 3d movie!
Trailer Feu: Crazy Horse Paris 3D Blu Ray 2012
Add comment