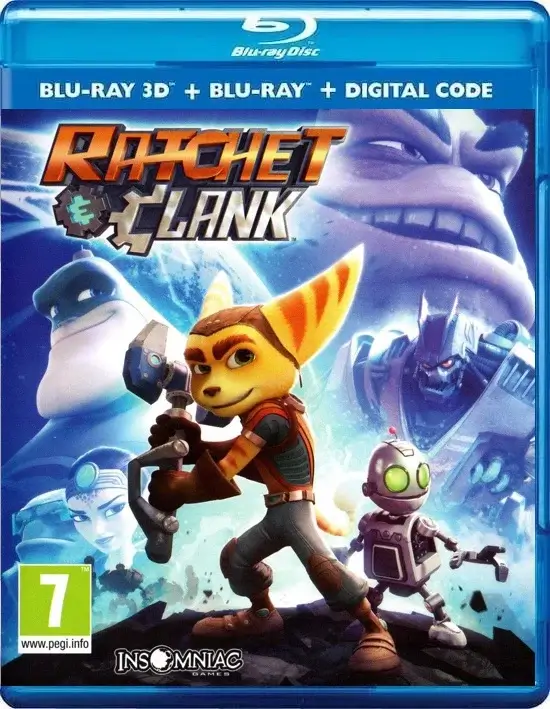 Ratchet and Clank 3D Blu Ray 2016
Producer: Kevin Munroe, Jericca Cleland
Duration: 1h 34 min.
Cast: James Arnold Taylor, David Kaye, Jim Ward, Sylvester Stallone, Paul Giamatti
IMDB: 5.6
DOWNLOAD
1 449
1
Story 3D Movie
When the galaxy comes under the threat of a nefarious space captain, a mechanic and his newfound robot ally join an elite squad of combatants to save the universe in the cartoon Ratchet and Clank 3d blu ray.
Review 3D Movie
Ratchet & Clank is a 2016 American-Canadian 3D computer-animated science fiction action comedy film based on the first game of the platforming video game series of the same name. The film stars the voices of Paul Giamatti, John Goodman, Bella Thorne, Rosario Dawson, James Arnold Taylor, David Kaye and Sylvester Stallone.
Series creators Insomniac Games helped with the film's production, screenplay, character development, and animation. The film was directed by Jericca Cleland and Kevin Munroe, featuring an original story written by Munroe and former Insomniac Games Senior Writer T.J. Fixman, who started writing for the series with the Future saga. Several cast members from the games reprised their respective voice roles, and assets from the video games were utilized in the film.
The film is an origin story that retells the events of the original Ratchet & Clank, depicting how Ratchet and Clank met each other as they attempt to save the Solana Galaxy from being destroyed by Chairman Drek and the Blarg. However, the film expands on various plot points in greater detail, and incorporates some elements from later series entries, such as the introduction of Doctor Nefarious and the Galactic Rangers.
Dear site users, to download a 3D movie you can use one of the file storage sites TakeFile or MoonDL. It's up to you which method to choose. Learn more about how to download from TakeFile. Learn more about how to download from MoonDL.
Also, if you have problems with payment on one site, you can try another


Have you bought a Premium and there is not enough traffic to download? Contact the TakeFile support team (This is not our support, but the service where you bought it), they will increase your traffic up to 512 gb every 48 hours.

Link Dead? Please let us know and we will fix it!
Subscribe to our
telegram channel
and don't miss the release of your favorite 3d movie!
Trailer Ratchet and Clank 3D Blu Ray 2016
Add comment