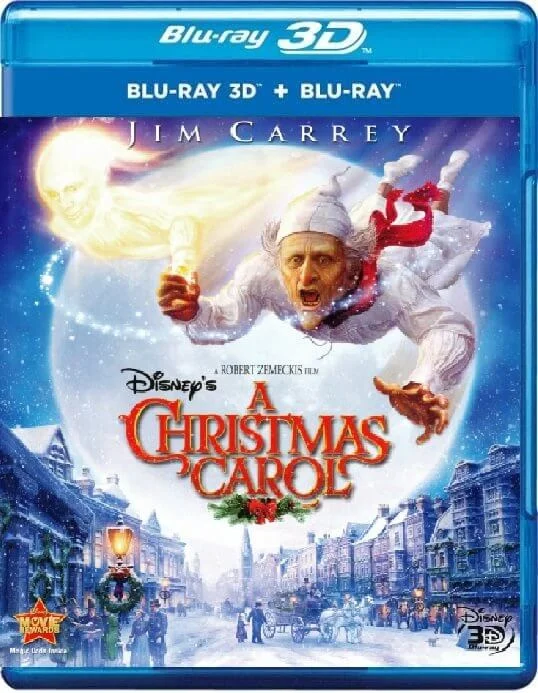 A Christmas Carol 3D Blu Ray 2009
Producer: Robert Zemeckis
Duration: 1h 36 min.
Cast: Jim Carrey, Gary Oldman, Colin Firth, Steve Valentine, Daryl Sabara, Sage Ryan
IMDB: 6.8
DOWNLOAD
3 250
0
Story 3D Movie
A Christmas Carol 3D is a timeless holiday tale that follows the life of Ebenezer Scrooge, a miserly old man who despises Christmas and everything associated with it. On Christmas Eve, Scrooge is visited by the ghost of his former business partner, Jacob Marley, who warns him of the consequences of his selfish ways. Marley informs Scrooge that he will be visited by three more spirits that night.
Throughout the night, Scrooge is visited by the Ghosts of Christmas Past, Present, and Yet to Come. The Ghost of Christmas Past shows Scrooge scenes from his own past, reminding him of the joyful and compassionate person he used to be. The Ghost of Christmas Present reveals the happiness of others celebrating Christmas, including Scrooge's own impoverished employee, Bob Cratchit, and his family. The Ghost of Christmas Yet to Come shows Scrooge a bleak future where he dies alone and unloved, with no one mourning his passing.
Frightened and remorseful, Scrooge begs the spirit for a chance to change his ways. He promises to embrace the spirit of Christmas and become a better person. Scrooge wakes up on Christmas morning with a newfound sense of joy and generosity. He immediately sets out to right his wrongs, starting by helping the Cratchit family and spreading kindness and goodwill to everyone he meets. Through his transformation, Scrooge learns the true meaning of Christmas – the importance of love, compassion, and generosity toward others.

Review 3D Movie
I read that this film has been labeled by parents as a "Disney Bomb" because it's too scary for their young children. Parents who take kids to see any movie need to be aware of something: if it's rated PG there are likely going to be scenes that your six year old will not enjoy - even if the name Disney is attached to it. The cutesy versions of A Christmas Carol (The Muppet Christmas Carol and Disney's own Mickey's Christmas Carol for example) have little in common with the classic, and sometimes very scary Charles Dickens story. The plot should be familiar to just about anyone who has been alive sometime during the past 150 years, and the fact that there are spirits (ghosts) in the story should also be a red flag to parents. Especially since two of them are downright frightening in just about any version of the story.
The truth is that this is one of the most beautiful and faithful remakes of the Dickens classic. The dialogue is taken nearly word-for-word from the book, and the look and feel of the film brilliantly capture what you would imagine wintertime in London in the 19th century to be like. A few of the special effects are a bit over-the-top, but most work well and add enough pizazz for cynical modern-day audiences. The scenes featuring the Ghost of Christmas Present are worth the price of admission alone.
Once every few months I'm dragged kicking and screaming to see a new film. I can't stand wasting my hard-earned dollar on the crap Hollywood throws at us these days, but every once in a while I'm pleasantly surprised and thoroughly enjoy a movie. This was definitely one of those rare times.
Dear site users, to download a 3D movie you can use one of the file storage sites TakeFile or MoonDL. It's up to you which method to choose. Learn more about Premium. Learn more about how to download from TakeFile. Learn more about how to download from MoonDL.
Also, if you have problems with payment on one site, you can try another


ATTENTION! If your account is only showing a small amount of traffic allocation, write a message to the support team of either TakeFile or MoonDL, informing them of your 3D-HD.CLUB user Premium status and they will increase your traffic allocation up to 512 GB every 48 hours.

Link Dead or Problem File? Please let us know and we will fix it!
Subscribe to our
Telegram channel
and don't miss the release of your favorite 3d movie!
Trailer A Christmas Carol 3D Blu Ray 2009
Add comment