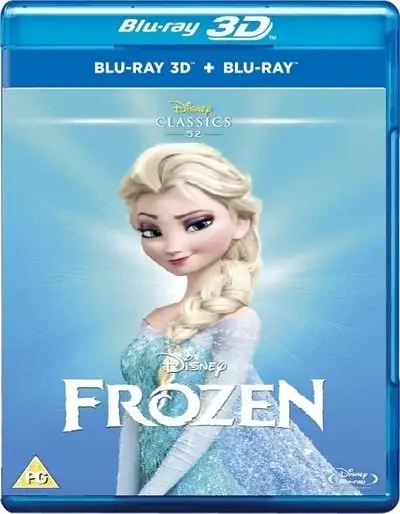 Frozen 3D Blu Ray 2013
Producer: Chris Buck, Jennifer Lee
Duration: 1h 42 min.
Cast: Kristen Bell, Idina Menzel, Jonathan Groff, Josh Gad, Santino Fontana, Alan Tudyk, Ciarán Hinds, Chris Williams, Stephen J. Anderson, Maia Wilson, Edie McClurg, Robert Pine, Maurice LaMarche, Livvy Stubenrauch, Eva Bella, Spencer Lacey Ganus, Jesse Corti
IMDB: 7.4
DOWNLOAD
2 503
0
Story 3D Movie
In the cartoon Frozen 3d blu ray, when an ancient prediction comes true and the kingdom is plunged into the embrace of eternal winter, three fearless heroes-Princess Anna, brave Kristoff and his faithful reindeer Sven-will go to the mountains to find Anna's sister, who can remove the chilling spell from the kingdom. Along the way, they will find a lot of exciting surprises and exciting adventures - meeting with mystical trolls, meeting with a charming snowman named Olaf, mountain peaks cooler than Everest and magic in every snowflake. Anna and Kristoff will have to unite and resist the powerful elements to save the kingdom and those who are dear to them!
Review 3D Movie
When people speak of their favorite Disney movies, the big four of the Renaissance and films of the Golden Age of animation are likely to be mentioned. The past decade has seen Disney movies that were hit or miss. Some considered classics, some forgotten and some close to being classics but not there yet. Frozen changes this dynamic and creates a full fledged classic. Frozen is not just a classic, it is THE Disney classic of the decade. It could position itself up there with the best of them. Disney returns to its roots with a vengeance. The best animated film of the past few years in my opinion.
The story is heart melting, filled with the pure feeling and heart that has become a staple with the best Disney movies. It is a moving story that has family at its center. It is unpretentious in what it is trying to portray. The comedy hits right on the mark and the action packed adventure and thrilling journey make this a tale with a little bit of everything in the exact right amounts. It is a daring movie that is laugh out loud at the some moments and stunning and provoking at others. All achieved in balance. A true triumph in story telling that proves exactly what Disney does best and again proving that they are back to producing top quality films. This is an affecting human story, one that is significant.
Startling and stunning, beautifully envisioned, emotionally powerful and relevant. Gorgeous visuals, stunning backdrops and intricacies like you have never seen before. The environments, the costumes, the character movements among other things make this film a gigantic step forward. The brilliant voice talents that breath life into this project need to be applauded and then some. The cast consisting of Kristen bell (Veronica Mars) and Idina Menzel (Weeckend) among many others bring winning charm, superior voice acting and magnificent vocals as well as heart to this tale. The sensational wit and humor, the arrays of different personalities, their emotions, their triumphs and falls make them some of the most interesting characters that people can relate to and some of the best i have seen in animation. The cast fully become the characters.
The score and music is perfect. The score is grand. The sound, the texture, the harmony, the melody is in a class of its own. Above and beyond anything attempted by the animation studio in the past decade. I would place the songs up there with those of the 90's movies and 2000's Enchanted. A true all round musical triumph. Songs that will be stuck in your mind and you will be humming them and you won't even know it. And some you will be belting out at the top of your lungs because they are that good. Songs that progress the story and an essential part of it.
So you have meticulously crafted breath taking animation, an affecting tale of the bond of family, romance, hilarious wit and humor courtesy of the characters especially sweet Olaf and heart stopping adventure. A true fairy tale that i would say could very well be The Little Mermaid 3D or The Beauty and The Beast 3D of this generation.
Frozen has that Disney magic that has been missing for so long and it comes in full force here.
Dear site users, to download a 3D movie you can use one of the file storage sites TakeFile or MoonDL. It's up to you which method to choose. Learn more about how to download from TakeFile. Learn more about how to download from MoonDL.
Also, if you have problems with payment on one site, you can try another


Have you bought a Premium and there is not enough traffic to download? Contact the TakeFile support team (This is not our support, but the service where you bought it), they will increase your traffic up to 512 gb every 48 hours.

Link Dead? Please let us know and we will fix it!
Subscribe to our
telegram channel
and don't miss the release of your favorite 3d movie!
Trailer Frozen 3D Blu Ray 2013
Add comment