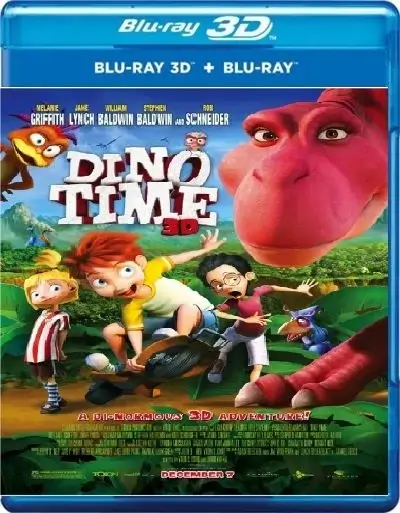 Dino Time 3D Blu Ray 2012
Producer: Yoon-suk Choi, John Kafka
Duration: 1h 26 min.
Cast: Pamela Adlon, Melanie Griffith, Rob Schneider, Grey Griffin, Tara Strong, Jane Lynch, Kari Wahlgren, Dee Bradley Baker, Stephen Baldwin, William Baldwin, Tom Kenny, John DiMaggio, Nolan North, Yuri Lowenthal, Roger Craig Smith
IMDB: 4.8
DOWNLOAD
1 267
0
Story 3D Movie
In the cartoon Dino Time 3d blu ray Ernie, his sister Julia, and his best friend Max are an inseparable trio. One day, friends without asking climbed into a strange device that Max's dad designed, and accidentally pressed the start button. The device turned out to be a time machine, and the guys found themselves in the Jurassic Period, right in the nest of a Tyrannosaurus Rex. But here's the joy: the female giant lizard took the guys for their cubs. But not everything, of course, is so cloudless in the world of predators. Some people dream of eating uninvited guests! Friends need to leave immediately and think about returning. But how do you do this if an important part of the car has disappeared?

Review 3D Movie
It's cute, silly and slightly low-brow but it's a bit of animated fun. Overall the story is nothing special and feels pretty generic. There are parts that keep you engaged and other times the story seems to be lagging a bit. Not terrible though. I will say that the animation was pretty. All the characters looked like individuals and were uniquely special. It was something I was not expecting from a low-budget animated movie. There were also quite a few action sequences that were very well illustrated.
My final recommendation would be that if you have a young son who loves Dinosaurs then this is a great choice but you must love the subject matter to love the film. There just isn't enough substance otherwise.
Dear site users, to download a 3D movie you can use one of the file storage sites TakeFile or MoonDL. It's up to you which method to choose. Learn more about Premium. Learn more about how to download from TakeFile. Learn more about how to download from MoonDL.
Also, if you have problems with payment on one site, you can try another


ATTENTION! If your account is only showing a small amount of traffic allocation, write a message to the support team of either TakeFile or MoonDL, informing them of your 3D-HD.CLUB user Premium status and they will increase your traffic allocation up to 512 GB every 48 hours.

Link Dead or Problem File? Please let us know and we will fix it!
Subscribe to our
Telegram channel
and don't miss the release of your favorite 3d movie!
Trailer Dino Time 3D Blu Ray 2012
Add comment