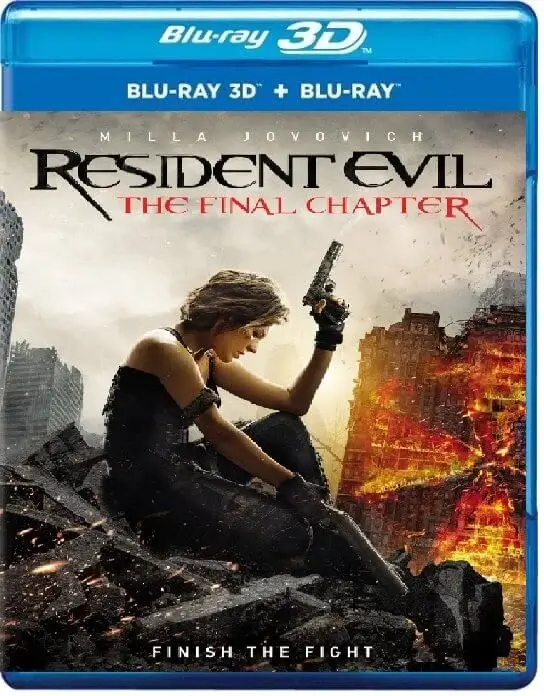 Resident Evil: The Final Chapter 3D Blu Ray 2016
Producer: Paul W.S. Anderson
Duration: 1h 47 min.
Cast: Milla Jovovich, Iain Glen, Ali Larter, Shawn Roberts, Eoin Macken, Fraser James, Ruby Rose, William Levy, Rola, Ever Anderson, Mark Simpson
IMDB: 5.6
DOWNLOAD
12 911
0
Story 3D Movie
SBS movie 3D Resident Evil: The Final Chapter this is the sixth franchise film based on the cult Japanese video game, and the fourth film in the series, produced by Paul Anderson, the creator of the cult film Mortal Kombat. It is worth noting that Mila Jovovich was shot almost immediately after the birth of her second child, but this did not affect her acting ability and physical form. Watch Resident Evil: The Final Chapter 3d sbs 2016
The action Resident Evil: The Final Chapter takes place immediately after the events of the fifth film Resident Evil. Humanity is living its last days, of the survivors almost no one left. After Alice was betrayed by Wesker in Washington, she lost her supernatural forces and became vulnerable, but she continued to fight. Alice must return to where it all began — to the Raccoon City laboratory, where the antidote should be stored. Meanwhile, the Umbrella Corporation gathers its forces for the final blow against the survivors of the apocalypse. In a race against time, Alice will join forces with his old friends and even enemies to give the final battle to the undead hordes and new mutant monsters.

Review 3D Movie
Once again betrayed by the employees of the Ambrella Corporation, Alice (Milla Jovovich) receives a message from the Red Queen, the Ambrella supercomputer. Artificial intelligence claims that he went over to the side of ordinary people who survived the zombie epidemic, but he still had to follow the orders of the corporate bosses who are planning to finish off humanity and repopulate the Earth. Therefore, the "Red Queen" explains to Alice how she can stop Umbrella. To do this, a woman needs to return to the underground complex under Rakun City, where her adventures began.
Dear site users, to download a 3D movie you can use one of the file storage sites TakeFile or MoonDL. It's up to you which method to choose. Learn more about Premium. Learn more about how to download from TakeFile. Learn more about how to download from MoonDL.
Also, if you have problems with payment on one site, you can try another


ATTENTION! If your account is only showing a small amount of traffic allocation, write a message to the support team of either TakeFile or MoonDL, informing them of your 3D-HD.CLUB user Premium status and they will increase your traffic allocation up to 512 GB every 48 hours.

Link Dead? Please let us know and we will fix it!
Subscribe to our
Telegram channel
and don't miss the release of your favorite 3d movie!
Trailer Resident Evil: The Final Chapter 3D Blu Ray 2016
Add comment