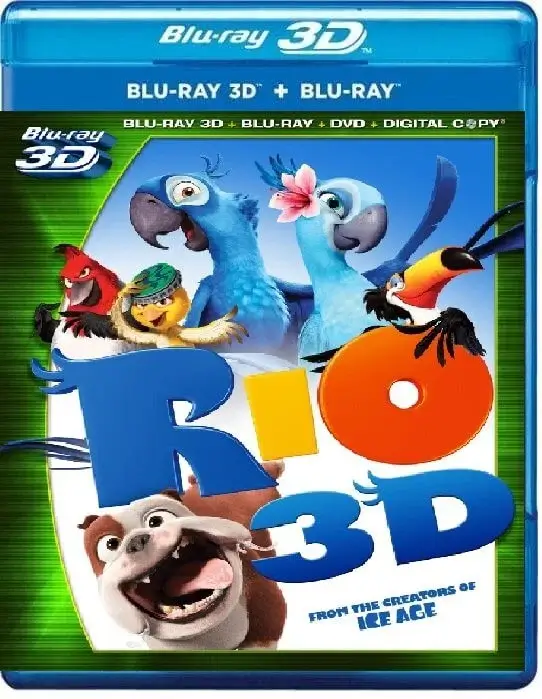 Rio 3D Blu Ray 2011
Producer: Carlos Saldanha
Duration: 1h 36 min.
Cast: Karen Disher, Jason Fricchione, Leslie Mann, Kelly Keaton, Jesse Eisenberg, Wanda Sykes, Jane Lynch, Rodrigo Santoro, Gracinha Leporace, Jamie Foxx, Will.i.am, Phil Miler, Anne Hathaway, Sofia Scarpa Saldanha
IMDB: 6.9
DOWNLOAD
2 142
0
Story 3D Movie
The boring parrot Rio 3d blu ray leaves his cozy, well-fed life in a cage and goes from Minnesota to Rio de Janeiro, the city of dreams of everyone. The inevitable encounters, obstacles, dangers and love for the last representative of his family make our hero look at the world differently and turn from a boring homebody into a cute cute guy who has learned the value of friendship and courage.

Review 3D Movie
It's story of how love compels to break comfort zone and discover our new self. Visually stunning Rio is brilliant stroke of writers to add magic to adventures and love tale of endangered bird "Blu". Story wouldn't have been same with Samba, carnival, beaches, mountain views, Tram buses if it was not Rio. The whole story revolves around Tamed Blu and wild Jewel. Jesse Eisenber and Anne Hathaway did their best voice acting. Apart from Blu and Jewel there are plenty of characters which build story effectively and added plenty of rib tickling moments. Even though story is simple and very much predictable with obvious ending, still story survives to tell a tale of love despite differences. Brilliant animation in 3d will take you on Journey of adventure and fun!
Dear site users, to download a 3D movie you can use one of the file storage sites TakeFile or MoonDL. It's up to you which method to choose. Learn more about Premium. Learn more about how to download from TakeFile. Learn more about how to download from MoonDL.
Also, if you have problems with payment on one site, you can try another


ATTENTION! If your account is only showing a small amount of traffic allocation, write a message to the support team of either TakeFile or MoonDL, informing them of your 3D-HD.CLUB user Premium status and they will increase your traffic allocation up to 512 GB every 48 hours.

Link Dead? Please let us know and we will fix it!
Subscribe to our
Telegram channel
and don't miss the release of your favorite 3d movie!
Trailer Rio 3D Blu Ray 2011
Add comment