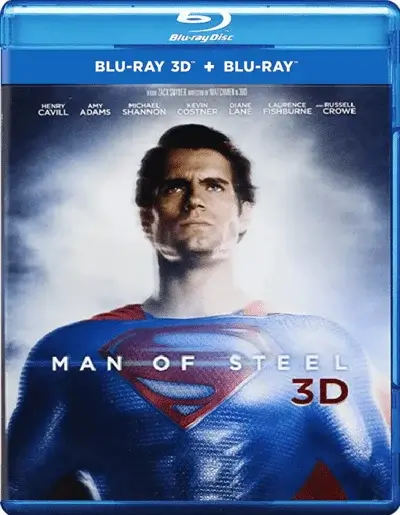 Man of Steel 3D Blu Ray 2013
Producer: Zack Snyder
Duration: 2h 23 min.
Cast: Henry Cavill, Amy Adams, Michael Shannon, Diane Lane, Russell Crowe, Antje Traue, Harry Lennix, Richard Schiff, Christopher Meloni, Kevin Costner, Ayelet Zurer, Laurence Fishburne, Dylan Sprayberry, Cooper Timberline, Richard Cetrone
IMDB: 7.0
DOWNLOAD
3 205
0
Story 3D Movie
In the movie Man of Steel 3d blu ray, raised by foster parents Martha and Jonathan Kent, Clark knows that having superpowers means making difficult decisions. But when humanity most needs stability, it is attacked. Will the hero be able to restore the world, or will he use his power to finally destroy it?
Review 3D Movie
I never had the opportunity to see this film in theatres, though, after my first viewing at home, I was instantly blown away by the tone, visuals, soundtrack, story, performance, thriller and action to this film.
Man of steel truely felt as though it was an alien invasion film set in our present time.
Superman has literally searched to find himself and when he does, he must learn not only learn his origins, though his abilities and how to use them.
He was bound to question himself and make mistakes along the way and following his journey is something I'm extremely excited for.
Dear site users, to download a 3D movie you can use one of the file storage sites TakeFile or MoonDL. It's up to you which method to choose. Learn more about how to download from TakeFile. Learn more about how to download from MoonDL.
Also, if you have problems with payment on one site, you can try another


Have you bought a Premium and there is not enough traffic to download? Contact the TakeFile support team (This is not our support, but the service where you bought it), they will increase your traffic up to 512 gb every 48 hours.

Link Dead? Please let us know and we will fix it!
Subscribe to our
telegram channel
and don't miss the release of your favorite 3d movie!
Trailer Man of Steel 3D Blu Ray 2013
Add comment