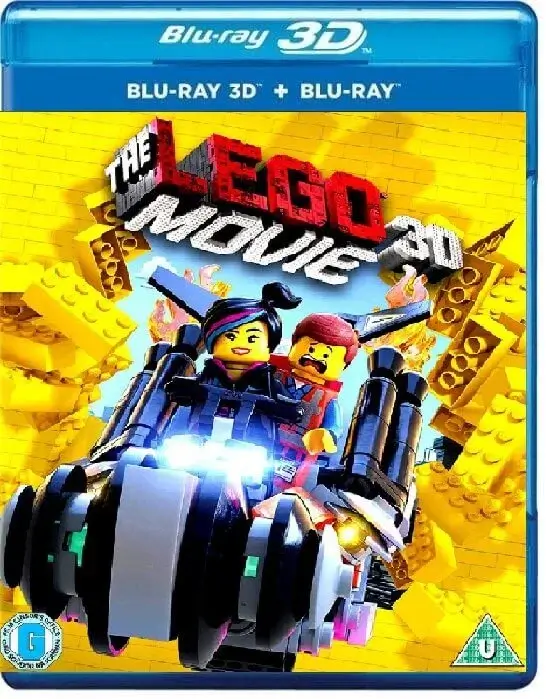 The Lego Movie 3D Blu Ray 2014
Country: Australia, USA, Denmark
Producer: Christopher Miller, Phil Lord
Duration: 1h 40 min.
Cast: Will Arnett, Elizabeth Banks, Craig Berry, Alison Brie, David Burrows, Anthony Daniels, Charlie Day, Amanda Farinos, Keith Ferguson, Will Ferrell, Will Forte, Dave Franco, Morgan Freeman, Todd Hansen
IMDB: 7.7
DOWNLOAD
1 595
0
Story 3D Movie
An ordinary LEGO figure, mistakenly thinking of himself as a figure from an elite set, agrees to join the campaign against the evil LEGO dictator, who plans to glue together the entire universe, in the The Lego Movie 3d blu ray.
Review 3D Movie
The stand out feature of the Lego Movie for me would be the way the Lego Universe was created. The movie paid great attention to detail making everything appear as it would made from Lego, including the water and clouds, and the surfaces people walked on all had the circles sticking upwards a Lego piece would have. Combined with all the yellow faces, and Lego part during building, I was convinced action took place in the Lego Universe.
A combination of adult and child friendly humour should entertain all, the movie has done well to ensure audiences of all ages are catered to.
The voice cast were excellent, especially Liam Neeson's split personality police officer, making the 2 personalities sound distinctive, and giving his Bad Cop the usual Liam Neeson tough guy.
The plot is about resisting an over-controlling ruler, highlighted by the name of the hero's "resistance piece". It is well thought through, well written, and revealing at the right times. Full of surprises, The Lego Movie won't let You see what's coming. Best animated film since Wreck it Ralph 3D! Please let there be sequels.
Dear site users, to download a 3D movie you can use one of the file storage sites TakeFile or MoonDL. It's up to you which method to choose. Learn more about how to download from TakeFile. Learn more about how to download from MoonDL.
Also, if you have problems with payment on one site, you can try another


Have you bought a Premium and there is not enough traffic to download? Contact the TakeFile support team (This is not our support, but the service where you bought it), they will increase your traffic up to 512 gb every 48 hours.

Link Dead? Please let us know and we will fix it!
Subscribe to our
telegram channel
and don't miss the release of your favorite 3d movie!
Trailer The Lego Movie 3D Blu Ray 2014
Add comment