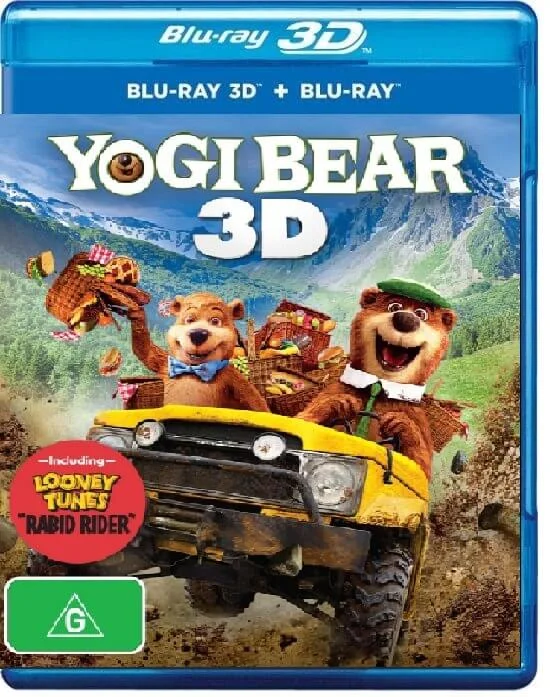 Yogi Bear 3D Blu Ray 2010
Country: USA, New Zealand
Producer: Eric Brevig
Duration: 1h 21 min.
Cast: Dan Aykroyd, Justin Timberlake, Anna Faris, Thomas Kavanagh, TJ Miller, Nate Corddry, Andrew Daly, Josh, Robert Thompson, David Stott, Greg Johnson
IMDB: 4.6
DOWNLOAD
2 299
0
Story 3D Movie
In Yogi Bear 3D Blu Ray, things don't go well in Jellistone Park, and greedy Major Brown decides to shut it down and sell the land. This means that many families will no longer be able to enjoy the beauty of nature, but, even worse, Yogi and his friend Boo Boo will be thrown out of their only home, where they have lived all their lives.
Now taking on the greatest challenge of his life, Yogi must prove that he is indeed "smarter than ordinary bears." He and Boo Boo team up with their old adversary Ranger Smith to find a way to save Jellistone from being shut down.

Review 3D Movie
A combination of funny and cute animation, along with live actors and picturesque wildlife landscapes, are immersed in a wild corner - Jellistone Park, where there are a couple of talking bears, whose main occupation is dodgy theft of food baskets for family picnics. Combining the quality of the three-dimensional format in the most correct ratio, the film simultaneously immerses deep into the sunny forest, and at the same time regularly and variedly plays with the hall with the volumetric elements of modern 3D, and your hands stretch out, then grab the flying nachos chips, or touch the furry fluffy crawling out of the screen with his muzzle. So, in addition to all its plot elements, first of all, the film stands out technically, presenting magnificent 3D at the maximum of its modern capabilities, regularly delighting with the features and capabilities of the format.
Dear site users, to download a 3D movie you can use one of the file storage sites TakeFile or MoonDL. It's up to you which method to choose. Learn more about Premium. Learn more about how to download from TakeFile. Learn more about how to download from MoonDL.
Also, if you have problems with payment on one site, you can try another


ATTENTION! If your account is only showing a small amount of traffic allocation, write a message to the support team of either TakeFile or MoonDL, informing them of your 3D-HD.CLUB user Premium status and they will increase your traffic allocation up to 512 GB every 48 hours.

Link Dead? Please let us know and we will fix it!
Subscribe to our
Telegram channel
and don't miss the release of your favorite 3d movie!
Trailer Yogi Bear 3D Blu Ray 2010
Add comment