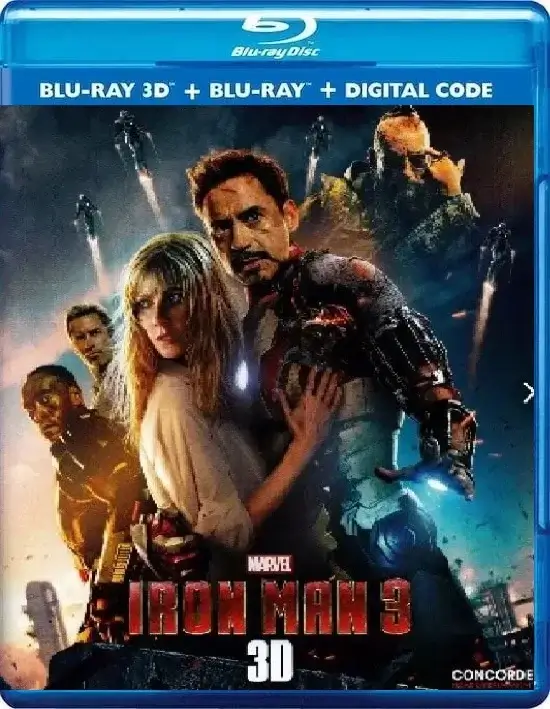 Iron Man 3 3D Blu Ray 2013
Producer: Shane Black
Duration: 2h 05 min.
Cast: Robert Downey Jr., Gwyneth Paltrow, Don Cheadle, Guy Pearce, Rebecca Hall, Jon Favreau, Ben Kingsley, James Badge Dale, Stephanie Zostak, Paul Bettany
IMDB: 7.1
DOWNLOAD
4 038
1
Story 3D Movie
MARVEL's Iron Man 3 3D tells the story of the encounter between genius billionaire entrepreneur Tony Stark, also known as Iron Man, with an enemy demonstrating truly limitless possibilities. When Stark's world is crumbling before his eyes due to the fault of unknown opponents, Tony longs to find the guilty and settle scores with them. Finding himself in a hopeless situation, Stark can only rely on himself and his ingenuity to protect those who are dear to him. This becomes a real test for the hero, who will not only have to fight an insidious enemy, but also understand himself in order to find the answer to the question that has long troubled him: which is more important - a person or a costume?
Review 3D Movie
Tony Stark (Downey Jr.) suffers from insomnia, works hard and, as a result of a careless public statement, becomes the main target of the new number one terrorist (Kingsley). Having missed a helicopter attack on his seaside residence and almost ditching Pepper (Paltrow), he goes to the northern states to find out what kind of superweapon his enemy possesses.
Dear site users, to download a 3D movie you can use one of the file storage sites TakeFile or MoonDL. It's up to you which method to choose. Learn more about how to download from TakeFile. Learn more about how to download from MoonDL.
Also, if you have problems with payment on one site, you can try another


Have you bought a Premium and there is not enough traffic to download? Contact the TakeFile support team (This is not our support, but the service where you bought it), they will increase your traffic up to 512 gb every 48 hours.

Link Dead? Please let us know and we will fix it!
Subscribe to our
telegram channel
and don't miss the release of your favorite 3d movie!
Trailer Iron Man 3 3D Blu Ray 2013
Add comment