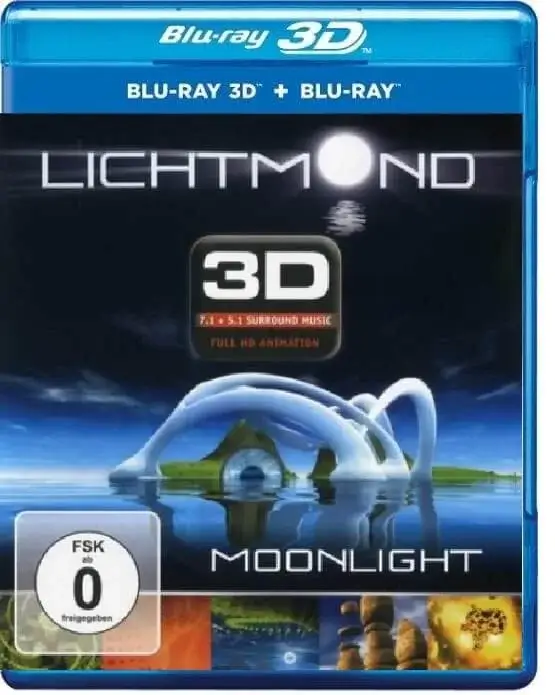 Lichtmond 3: Universe of Light 3D Blu Ray 2014
Producer: Giorgio Coppecheli, Martin Coppeheli
Duration: 50 min.
IMDB: 7
DOWNLOAD
1 901
0
Story 3D Movie
With their third album Lichtmond 3: Days of Eternity 3D, brothers Giorgio and Martin Koppehele continue their journey through the pristine world of the fantastic planet Chronos, where time dissolves into the aesthetics of sound and image.
Review 3D Movie
A stunning fantasy journey in the rays of moonlight through magical sounds. Immerse yourself in extraordinary music and let your FullHD screens turn for one hour into the doors of fabulous worlds that you have never seen before, but you probably dreamed of them. This is an amazing edition, with a unique sound range, both in quality and in filling the unprecedented beauty of the video sequence of futuristic 3D worlds. Do not miss this disc, let it fill your home with bright colors and high quality divine sound of works by Giorgio and Martin Koppehele.
Dear site users, to download a 3D movie you can use one of the file storage sites TakeFile or MoonDL. It's up to you which method to choose. Learn more about how to download from TakeFile. Learn more about how to download from MoonDL.
Also, if you have problems with payment on one site, you can try another


Have you bought a Premium and there is not enough traffic to download? Contact the TakeFile support team (This is not our support, but the service where you bought it), they will increase your traffic up to 512 gb every 48 hours.

Link Dead? Please let us know and we will fix it!
Subscribe to our
telegram channel
and don't miss the release of your favorite 3d movie!
Trailer Lichtmond 3: Universe of Light 3D Blu Ray 2014
Add comment