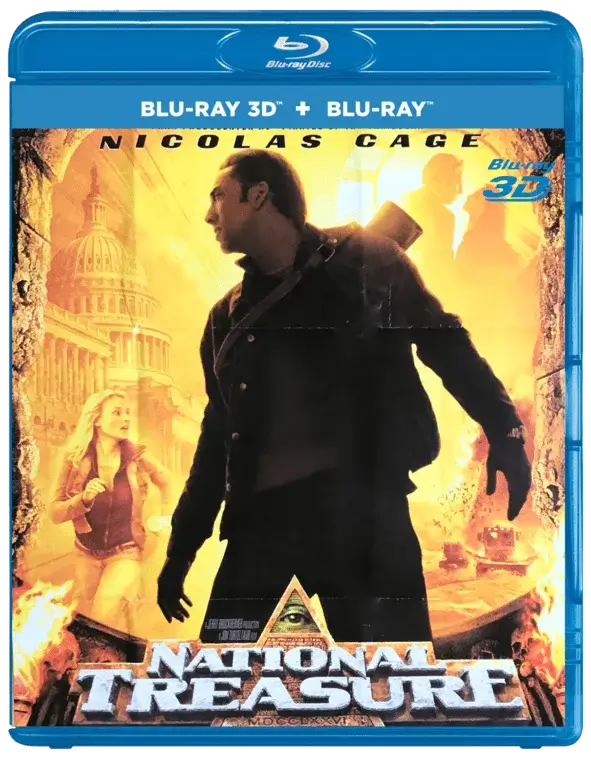 National Treasure 3D Blu Ray 2004
Producer: Jon Turteltaub
Duration: 2h 11 min.
Cast: Nicolas Cage, Diane Kruger, Justin Bartha, Sean Bean, Jon Voight, Harvey Keitel, Christopher Plummer
Conversion 2D to 3D by:
DGC
IMDB: 6.9
DOWNLOAD
1 437
0
Story 3D Movie
National Treasure 3D is an adventure film that follows the story of Benjamin Franklin Gates, a historian and treasure hunter. Benjamin comes from a long line of treasure hunters who have been searching for a legendary treasure hidden by the Founding Fathers of the United States.
The plot begins with Benjamin's father, Patrick Gates, sharing a family legend about a hidden treasure known as the "Knights Templar Treasure." According to the legend, the treasure consists of priceless artifacts, historical documents, and wealth beyond imagination. However, the location of the treasure has remained a mystery for centuries. Determined to uncover the truth, Benjamin and his loyal friend and tech-savvy sidekick, Riley Poole, embark on a thrilling quest. They must decipher a series of cryptic clues and riddles left behind by the Founding Fathers themselves, leading them to various iconic American landmarks.
Their journey takes them to places like Independence Hall, the Liberty Bell, and the National Archives, as they race against a group of ruthless treasure hunters led by Ian Howe. Ian is a former associate of Benjamin's father, who has turned to the dark side and seeks the treasure for his own gain. With the help of a brilliant archivist, Dr. Abigail Chase, who initially doubts their theories but later becomes a vital ally, Benjamin and Riley eventually uncover the final clue that leads them to a hidden chamber beneath Trinity Church in New York City.
In a dramatic climax, they outsmart Ian and his team, and Benjamin discovers the treasure hidden deep within the chamber—a collection of historical artifacts, including the original U.S. Constitution and a fortune in gold and jewels. However, true to his love for history and preserving national heritage, Benjamin decides that the treasure belongs to the American people and donates it to the government. In the end, Benjamin and Abigail develop a romantic relationship, and the film concludes with Benjamin and Riley setting their sights on a new historical mystery, hinting at the possibility of more adventures in the future.
National Treasure 3D is a thrilling and entertaining tale that combines history, action, and puzzle-solving, showcasing the importance of preserving national heritage and the power of knowledge.
National Treasure 3D Blu Ray 2004 originally was not released in 3D but has been converted to 3D specifically for the 3D-HD.CLUB, offering viewers an enhanced visual experience of the thrilling action sequences and special effects in the movie.
3D conversion by DGC

Dear site users, to download a 3D movie you can use one of the file storage sites TakeFile or MoonDL. It's up to you which method to choose. Learn more about Premium. Learn more about how to download from TakeFile. Learn more about how to download from MoonDL.
Also, if you have problems with payment on one site, you can try another


ATTENTION! If your account is only showing a small amount of traffic allocation, write a message to the support team of either TakeFile or MoonDL, informing them of your 3D-HD.CLUB user Premium status and they will increase your traffic allocation up to 512 GB every 48 hours.

Link Dead or Problem File? Please let us know and we will fix it!
Subscribe to our
Telegram channel
and don't miss the release of your favorite 3d movie!
Trailer National Treasure 3D Blu Ray 2004
Add comment