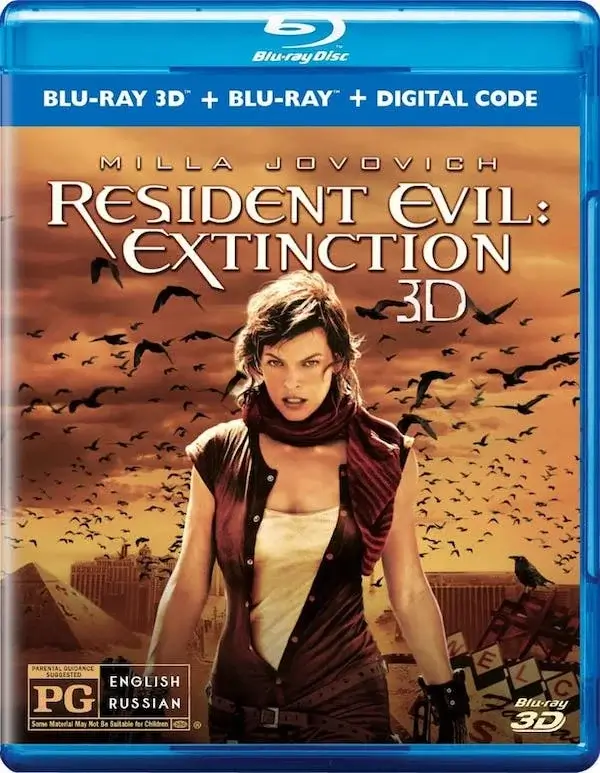 Resident Evil: Extinction 3D Blu Ray 2007
Producer: Russell Mulcahy
Duration: 1h 34 min.
Cast: Milla Jovovich, Ali Larter, Oded Fehr, Iain Glen, Ashanti, Christopher Egan, Spencer Locke
IMDB: 6.2
DOWNLOAD
1 363
2
Story 3D Movie
Special Forces commander Alice, who has repeatedly saved the world from deadly viruses and imminent death, has taken up arms again. This time she will have to fight with the Umbrella Corporation, working on the implementation of a brutal anti-human project. Insidious politicians and pragmatic scientists seek to destroy people and replace them with more "perfect" creatures, populating the Earth with invulnerable immortal clones.
Resident Evil: Extinction 3D Blu Ray 2007 originally was not released in 3D but has been converted to 3D specifically for the 3D-HD.CLUB, offering viewers an enhanced visual experience of the thrilling action sequences and special effects in the movie.
3D conversion by JFC

Review 3D Movie
The powerful Umbrella Corporation infects the planet with a terrible virus that turns people into zombies. A handful of survivors wander around the planet in search of a place where there are no living dead. One of these groups is joined by the main character Alice, formerly a special agent of Umbrella, and now the main opponent of the corporation. Together with people, she intends to go to some place in Alaska, isolated from the outside world. However, the intriguers from Umbrella, located in bunkers underground, want to catch the traitor. There is something in her blood that inhibits the action of the "T" virus and can turn zombies into obedient slaves.
"Resident Evil: Extinction" 3d blu ray is considered the most successful film adaptation of a computer game.
Dear site users, to download a 3D movie you can use one of the file storage sites TakeFile or MoonDL. It's up to you which method to choose. Learn more about Premium. Learn more about how to download from TakeFile. Learn more about how to download from MoonDL.
Also, if you have problems with payment on one site, you can try another


ATTENTION! If your account is only showing a small amount of traffic allocation, write a message to the support team of either TakeFile or MoonDL, informing them of your 3D-HD.CLUB user Premium status and they will increase your traffic allocation up to 512 GB every 48 hours.

Link Dead? Please let us know and we will fix it!
Subscribe to our
Telegram channel
and don't miss the release of your favorite 3d movie!
Trailer Resident Evil: Extinction 3D Blu Ray 2007
Add comment