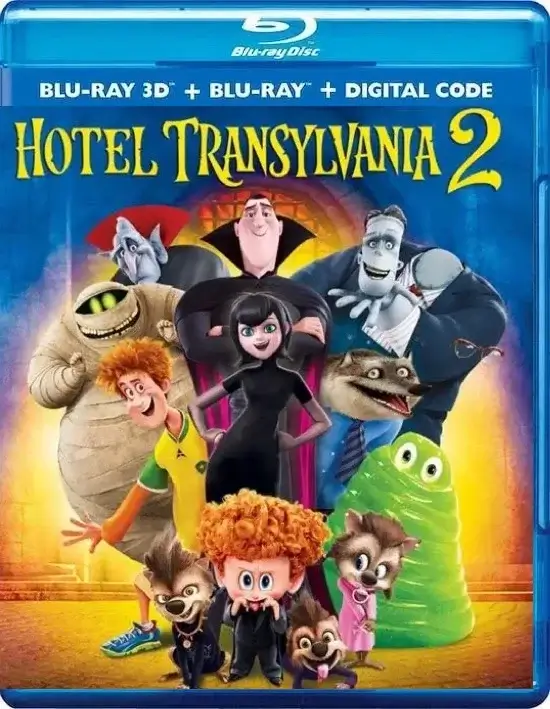 Hotel Transylvania 2 3D Blu Ray 2015
Story 3D Movie
Count Dracula marries his charming daughter to a guy from the human world. And now the legendary vampire becomes a grandfather! Who will his granddaughter grow up to be: an ordinary person or a little monster?
Review 3D Movie
Adults will understand the plot of the new "Hotel Transylvania 2" 3d better than children. But the jokes of the cartoon are numerous and universal.
Shortly after Mavis and Jonathan get married, their son Dennis is born. Dracula dotes on his grandson, but is very worried because the boy does not cut his vampire fangs in any way. As the boy's fifth birthday approaches, his friends and family begin to suspect that Dennis is a human, not a vampire. Dracula, however, does not want to put up with this. He does everything possible to awaken the vampire in Dennis. Meanwhile, the young parents visit Jonathan's relatives in America, and Mavis thinks about moving Dennis to California, where he will be among "his own" – that is, among people, not monsters.



Dear site users, to download a 3D movie you can use one of the file storage sites TakeFile or MoonDL. It's up to you which method to choose. Learn more about how to download from TakeFile. Learn more about how to download from MoonDL.
Also, if you have problems with payment on one site, you can try another


Have you bought a Premium and there is not enough traffic to download? Contact the TakeFile support team (This is not our support, but the service where you bought it), they will increase your traffic up to 512 gb every 48 hours.

Link Dead? Please let us know and we will fix it!
Subscribe to our
telegram channel
and don't miss the release of your favorite 3d movie!
Trailer Hotel Transylvania 2 3D Blu Ray 2015
Add comment