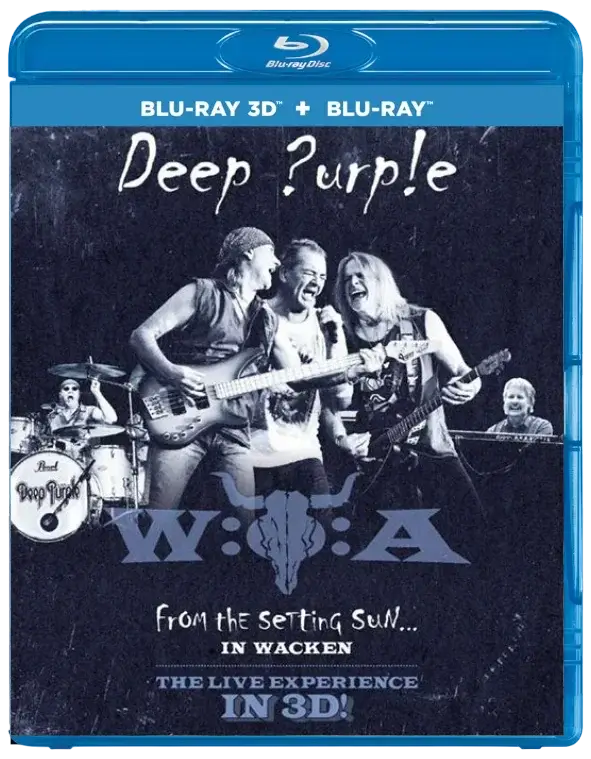 Deep Purple From the Setting Sun in Wacken 3D Blu Ray 2015
Story 3D Movie
Deep Purple From the Setting Sun in Wacken 3D is a live concert film that captures the legendary British rock band Deep Purple during their electrifying performance at the Wacken Open Air Festival in 2015. As the sun sets over the iconic heavy metal festival in Wacken, Germany, Deep Purple takes the stage to deliver a mesmerizing and high-energy performance. The 3d movie follows the band as they dive into their extensive catalog of classic rock hits, including "Smoke on the Water," "Highway Star," and "Space Truckin". Throughout the concert, the audience is treated to powerful guitar solos from Steve Morse, Ian Gillan's iconic vocals, and the exceptional musicianship of the entire band. The crowd's enthusiasm is palpable as they sing along and rock out to the timeless music of Deep Purple.
As the night progresses, the band's energy and passion for their music are palpable, creating an unforgettable experience for both the audience at Wacken and viewers of the film. Deep Purple From the Setting Sun in Wacken 3D is a thrilling journey through rock history, showcasing the enduring talent of Deep Purple as they continue to captivate audiences with their timeless music.

Dear site users, to download a 3D movie you can use one of the file storage sites TakeFile or MoonDL. It's up to you which method to choose. Learn more about Premium. Learn more about how to download from TakeFile. Learn more about how to download from MoonDL.
Also, if you have problems with payment on one site, you can try another


ATTENTION! If your account is only showing a small amount of traffic allocation, write a message to the support team of either TakeFile or MoonDL, informing them of your 3D-HD.CLUB user Premium status and they will increase your traffic allocation up to 512 GB every 48 hours.

Link Dead or Problem File? Please let us know and we will fix it!
Subscribe to our
Telegram channel
and don't miss the release of your favorite 3d movie!
Trailer Deep Purple From the Setting Sun in Wacken 3D Blu Ray 2015
Add comment