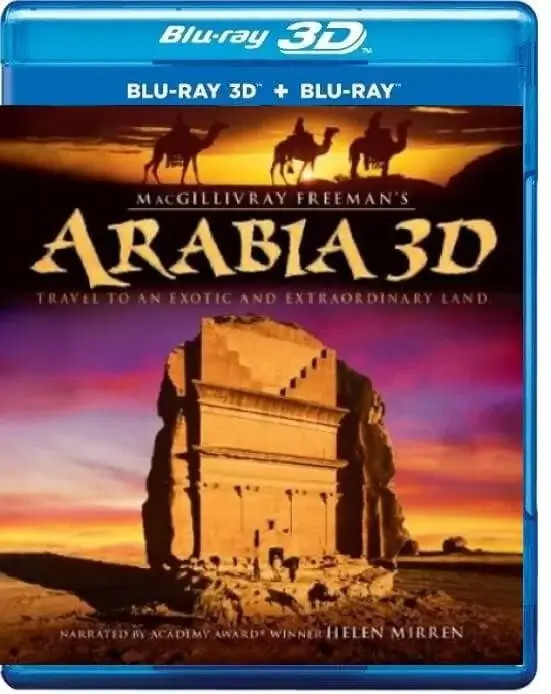 Arabia 3D Blu Ray 2011
Producer: Greg McGillivray
Duration: 46 min.
Cast: Hamzah Jamjoom, Ahmad Zaki Hammad, Robert Lacey, Helen Mirren, Hussain M. Najjar
IMDB: 6.1
DOWNLOAD
1 479
0
Story 3D Movie
Discover a land as exotic as it is extraordinary. Arabia 3D offers an in-depth understanding of one of the most fascinating lifestyles and cultures. Cross the dunes with a caravan of camels, dive in the treasure-filled Red Sea, explore the ruins of a lost city, and relive the golden age of Islamic inventions. A precious land imprinted with myths and mysteries.

Review 3D Movie
A new project about the extraordinary culture and stories of Arabia - from the Oscar nominees, producers of the films Everest and Adventure in the Grand Canyon!
Breathtaking footage will take you to the heart of this exotic land and reveal the great Arabian secret. As if on a flying carpet, you will fly over the lost city of Madain Salih and its ancient tombs, walk along the famous Incense Trail, come face to face with a sandstorm in the desert and then dive to the bottom of the Red Sea to see magnificent coral reefs and wrecks of ancient ships ... And thanks to slow motion technology, you have the chance to join the most massive pilgrimage on Earth.
Oscar winner Helen Miren voiced this amazing journey that will allow you to gain a deeper understanding of the fascinating culture and customs of the East, usually hidden from prying eyes.
Dear site users, to download a 3D movie you can use one of the file storage sites TakeFile or MoonDL. It's up to you which method to choose. Learn more about Premium. Learn more about how to download from TakeFile. Learn more about how to download from MoonDL.
Also, if you have problems with payment on one site, you can try another


ATTENTION! If your account is only showing a small amount of traffic allocation, write a message to the support team of either TakeFile or MoonDL, informing them of your 3D-HD.CLUB user Premium status and they will increase your traffic allocation up to 512 GB every 48 hours.

Link Dead or Problem File? Please let us know and we will fix it!
Subscribe to our
Telegram channel
and don't miss the release of your favorite 3d movie!
Trailer Arabia 3D Blu Ray 2011
Add comment