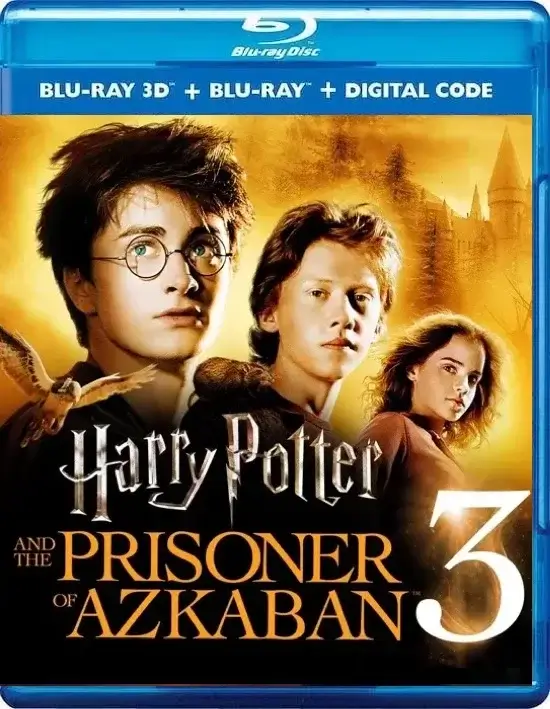 Harry Potter and the Prisoner of Azkaban 3D Blu Ray 2004
Producer: Alfonso Cuarón
Duration: 2h 22 min.
Cast: Daniel Radcliffe, Emma Watson, Rupert Grint, Richard Griffiths, Pam Ferris, Fiona Shaw, Harry Melling
IMDB: 7.9
DOWNLOAD
1 881
0
Story 3D Movie
In the third part of the story about the young wizard, the beloved heroes - Harry Potter, Ron and Hermione - return to the third year of the Hogwarts School of Witchcraft and Wizardry. This time they must uncover the secret of a prisoner who escaped from the sinister Azkaban prison, whose stay in the wild creates a mortal danger for Harry.
Harry Potter and the Prisoner of Azkaban 3D Blu Ray 2004 originally was not released in 3D but has been converted to 3D specifically for the 3D-HD.CLUB, offering viewers an enhanced visual experience of the thrilling action sequences and special effects in the movie.
3D conversion by JFC

Review 3D Movie
The first two parts of "Harry Potter" were shot by Chris Columbus, in whose filmography "Home Alone" and "Gremlins" are children's paintings. The third part - "Harry Potter and the prisoner of Azkaban" 3D - invited Mexican Alfonso Cuaron, who became famous after the uninhibited film "And your mother too". No one understood what to expect from such a steep U-turn. But Cuaron really brought a taste of a new adventure into the already packed rut.
Dear site users, to download a 3D movie you can use one of the file storage sites TakeFile or MoonDL. It's up to you which method to choose. Learn more about Premium. Learn more about how to download from TakeFile. Learn more about how to download from MoonDL.
Also, if you have problems with payment on one site, you can try another


ATTENTION! If your account is only showing a small amount of traffic allocation, write a message to the support team of either TakeFile or MoonDL, informing them of your 3D-HD.CLUB user Premium status and they will increase your traffic allocation up to 512 GB every 48 hours.

Link Dead? Please let us know and we will fix it!
Subscribe to our
Telegram channel
and don't miss the release of your favorite 3d movie!
Trailer Harry Potter and the Prisoner of Azkaban 3D Blu Ray 2004
Add comment